Almost Everyone has a Gmail account nowadays. Gmail is a free, email service developed by Google. Users can access Gmail on the web and through the mobile apps for Android and iOS, as well as through third-party programs that synchronize email content through POP or IMAP protocols. Gmail is one of the widely used email services.
"Gmail App now has a Smart Reply Feature"
It's a monotonous task to reply to emails when you are traveling or busy. Gmail app's new feature will help you to cope up with issues related to replying to emails. Sundar Pichai announced the Smart Reply feature in Gmail at the Google I/O 2017 keynote and Google has now launched "Smart Reply" option in its Gmail app.
The smart reply feature will suggest quick responses to your emails. The feature scans the text of an incoming mail and then suggests three basic responses the user can tweak and send.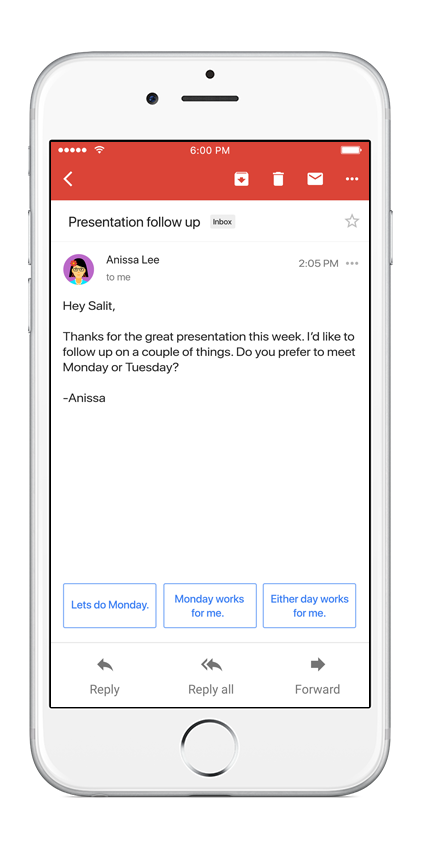 Smart Reply utilizes machine learning to give you better responses the more you use it. So if you're more of a "thanks!" than a "thanks." person, we'll suggest the response that's, well, more you! If you want to learn about the smarts behind Smart Reply, check out the Google Research Blog. The feature uses machine learning technology to recognize the email and immediately suggest the set of responses. The feature is right now out in English.
So, what do you think about this feature ? Feel free to share your views in comment box